Don't Miss These Great Classes!!!
Hello everyone,
We have several upcoming classes with spaces still available. Some are usefu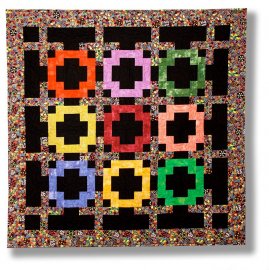 l techniques while others are fun projects!! Why not treat yourself before the holidays get hectic! Click on the class title for more information.
Wed, Nov 2, 2016 at 12:30 pm to 3:30 pm--Painless Paper Piecing -- This paper piecing method is super easy and you never have to tear paper out of your seams!
Sat, Nov 5, 2016 at 12:30 pm to 3:30 pm--Cut & Shuffle Quilts -- As seen in the book by St. Louis quilter and author, Jan Ochterbeck. Cut and shuffle your way to creatively satisfying quilts using the easy Block Mama method. Quilt photo is on the right.
Tue, Nov 8, 2016 at 6:00 pm to 9:00 pm--Beginning Free Motion Quilting--Lots of tips and techniques for easy free motion quilting.
Thu, Nov 10, 2016 at 6:30 pm to 9:30 pm and Thu, Dec 1, 2016 at 6:30 pm to 8:30 pm-- Yellow Brick Road--There is a reason this is one of the most popular quilt patterns ever sold! A super class for your 2nd quilt or your 50th quilt!


Sat, Nov 12, 2016 at 10:00 am to 1:00 pm--Dancing Dresdens--Make this fun and quick quilt with Dresden master, Candy Grisham! You'll love the quilt! Quilt is on the left.

Sat, Nov 12, 2016 at 2:00 pm to 4:00 pm--Borders and Bindings--Are your borders wavy? Do you want to know the easiest way to put on that binding? This is for you!
Louise Georgia and her terrific staff

The Quilted Fox
10403 Clayton Rd.
Frontenac, MO 63131
314-993-1181
Toll free 1-877-993-1181
Read our newsletter at http://www.quiltedfox.com/newsletter.htm
info@quiltedfox.com
www.quiltedfox.com
Like us on Facebook