Summer Happenings at The Quilted Fox!
Hello everyone,


It's a busy summer here at the shop! Here's the scoop! Call us to sign up for any of these at 314-993-1181.

New for 2017! Travel with The Quilted Fox to the new Fall AQS Quilt Show on September 13 or 14, 2017! The bus goes down in the morning and returns that evening. There will be a bus on Wednesday and one on Thursday for the show. Sign up now to hold your seat! It's only $55 per person which covers the bus. Meals and show entrance are on your own. Call now to reserve your seat! 314-993-1181.
Sign up now for: The Fox Meets Monet!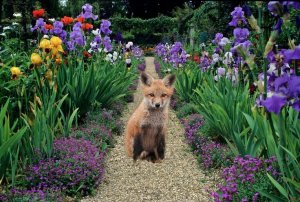 We're very excited to report that The Fox Meets Monet will start in November for our first and third Saturday Block of the Month. This unique Quilted Fox design will include all the colors of Monet's garden—Raspberry, Daffodil, Violet, Sky Blue, Mossy Green, and Mushroom. Louise was inspired by the 2017 Better Homes and Gardens Color Palette of the Year!
Our Annual Fat Quarter Flash Event!
Saturday, August 12 --
10 am — 4:30 pm
Sunday, August 13 --
Noon—4:00 pm
It's the annual fat quarter flash days! Come in
and receive a fat quarter and one chance to win
a 20% discount for a whole year!
For each $10 you spend in merchandise,
receive an additional chance to win
the 20% discount for a year!

Borders & Bindings Class with Candy Grisham Fri, Aug 4, 2017 at 2:00 pm to 4:00 pm $21.00 Only 2 spaces left!

IRS Quilt with Linda Grabel--Use up your scraps! Thu, Aug 10, 2017 at 6:30 pm to 9:30 pm $30

Introduction to Hand Applique with Marilyn Donovan Thu, Aug 17, 24 & 31, 2017 at 6:00 pm to 8:00 pm $60

Sizzling Silk with Louise Georgia Fri, Aug 18, 2017 at 1:30 pm to 4:00 pm $25
Louise Georgia and her terrific staff

The Quilted Fox
10403 Clayton Rd.
Frontenac, MO 63131
314-993-1181
Toll free 1-877-993-1181
Read our newsletter at http://www.quiltedfox.com/newsletter.htm
info@quiltedfox.com
www.quiltedfox.com
Like us on Facebook