Annual Demo Night on Wednesday!
Hello everyone,
Demo Night — Wednesday, September 20
Multiple demonstration stations! Games!
Demonstrations will be happening all over the shop!
Stop in, play for door prizes, learn some new tips, tricks and tools to
enhance your quilting skills. Meet up with friends!
It's a fun evening for everyone!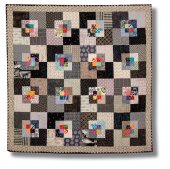 Lots of great classes are happening soon! Call us to register for the class--


#445 Floating Squares with Louise Morris--Sat, Sep 30, 2017 at 1:00 pm
to 4:00 pm--$25.00 This one is great for using up your scraps! (photo on the left)

#250 Evening Stroll with Eunice Porvaznik--Tue, Oct 3, 2017 at 10:30 am to 12:30 pm--$10 per month for 8 months. Everyone loves a row quilt! (photo on the right)


#430 Dresden Table Runner with Candy Grisham--Fri, Oct 6, 2017 at 1:30 pm to 3:30 pm $21.00-- A quick project for yourself or a gift. (table runner at lower left)

#230 English Paper Piecing with Velora Mowry--Sat, Oct 7, 2017 at 10:30 am to 1:30 pm--$25 A great class for a handwork project. (lower right photo)

Pere Marquette retreat will be November 6-9, 2017. There are still spaces available! Check our website for more information and call to register.
Louise Georgia and her terrific staff

The Quilted Fox
10403 Clayton Rd.
Frontenac, MO 63131
314-993-1181
Toll free 1-877-993-1181
Read our newsletter at http://www.quiltedfox.com/newsletter.htm
info@quiltedfox.com
www.quiltedfox.com
Like us on Facebook