Quilt Show this Saturday!
Hello everyone,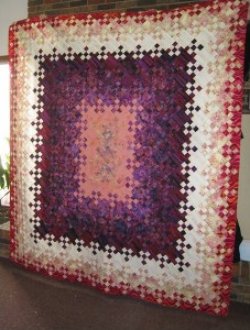 Saturday, March 10 from 10 to 4:30, The Quilted Fox is having a quilt show of Blooming 9-Patch quilts. These are all gorgeous so don't miss this chance to see a group of these quilts all at once. If you want to make your own, Linda Grabel is teaching the class on March 31 from 10:30 to 3:30. Call us to register or sign up when you come see these marvelous quilts.



Travel with The Quilted Fox to the AQS Quilt Show April 18, 19, 20, or 21, 2018




Paducah is the epicenter for quilters and quilt enthusiasts during the American Quilter's Society Annual Quilt Show & Contest.

The bus goes down in the morning and returns that evening. There will be a bus each day of the show. Sign up now to hold your seat! It's only $56 per person which covers the bus. Meals and show entrance are on your own. Call now to reserve your seat! The buses are filling fast. 314-993-1181



Our Beginning Machine Piecing class is ideal for people who want to learn to make a quilt. We have a class beginning Friday, March 23. The class meets from 10:30 to 12:30 on six consecutive Fridays ending on April 27 and costs $70. It's taught by Linda Grabel.


Eunice and Trudy are wrapping up a year long class called Fundamentals. We recently had a show and tell where the class participants brought their finished quilt top. You can see pictures of these wonderful quilts on our website here. Do watch the schedule because we'll be repeating this class at a future date.
Louise Georgia and her terrific staff

The Quilted Fox
10403 Clayton Rd.
Frontenac, MO 63131
314-993-1181
Read our newsletter at http://www.quiltedfox.com/newsletter.htm
info@quiltedfox.com
www.quiltedfox.com
Like us on Facebook