Display of International Textiles at the Quilted Fox Today!
Hello everyone,
We hope you are all having a wonderful weekend! We would like to invite you to join us today from 12 - 4:00 p.m. at the Quilted Fox for a display of International Textiles as a part of Innovations in Textiles 2019. This is a one day exhibit of textiles from around the world!
Come in to see the exhibit and then shop our international fabrics from Africa, Australia and more.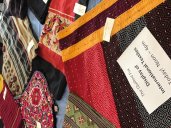 Louise Georgia and her terrific staff

The Quilted Fox
10403 Clayton Rd.
Frontenac, MO 63131
314-993-1181
Read our newsletter at http://www.quiltedfox.com/newsletter.htm
info@quiltedfox.com
www.quiltedfox.com
Like us on Facebook