Demo night and New classes for Oct, Nov, and Dec on website
Hello everyone,

Please put this date on your calendar - Demo night on Thursday, Sept 22, 2022 - details coming soon!
There are two slots left in the Basic Machine Quilting class this Saturday, Aug. 27th from 10:30-3:30 taught by Marsha Bray. You know even if you don't plan to do your large quilts on a domestic machine, it is fun to do baby quilts, throws, and wall hangings yourself. You will learn tips that make it much easier and give a professional appearance when you are done. Call (314 993-1181) and we can get you signed up.
East Quilts West meets on Aug 17th from 10:30-12:30. You need to sign up in advance so we know you are coming. Louise (me) teaches it and it is an exercise in color and design while making one block each month.

The classes for September include How to Make a Quilt Hanging Sleeve. It is a one-hour class on Sept 13th from 11:00- noon.

Last but not least we have Collage Guidance by Candy Grisham on Sept 28th from 10:00-2:30

If you go to www.quiltedfox.com you will see pictures of the quilts and can check the supply list (top of the page that lists the classes).
All Missouri Shop Hop starts on September 1st and runs through the end of October. Come in and see the quilt we have put together to celebrate the event. Shop Hop magazines are available for purchase and include lots of good information on all 70 participating shops as well as a few free patterns. Get yours while they last.

Stop by and see what we have new on the shelves now. Thank you for doing such a good job on the clear the bolt sale. It made it much easier for me to find new homes for the beautiful fabrics that have been arriving daily.


Louise Georgia and her terrific staff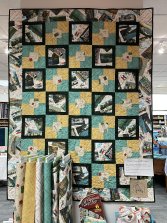 The Quilted Fox
2055 Craigshire Road, Suite 205
Maryland Heights, MO 63146
314-993-1181
info@quiltedfox.com
www.quiltedfox.com
Like us on Facebook