The Fox Meets Monet
Started November 2017



We're very excited to report that The Fox Meets Monet started in November for our first and third
Saturday Block of the Month. This unique Quilted Fox design includes all the colors of Monet's garden—Raspberry, Daffodil, Violet, Sky Blue, Mossy Green, and Mushroom. Louise was inspired by the 2017 Better Homes and Gardens Color Palette of the Year!here is a main block and an alternate block as in previous years. Registration is $15 for the main block. As long as you return at the next Saturday meeting (the Sat. you signed up for) with your block completed, you'll receive the next main block free. You must also stay on Sat. morning for the demos and announcements.
If you miss a month, or don't have your block completed, you'll need to pay $5 for the next block.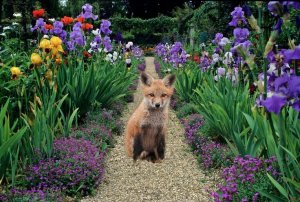 The alternate block is $5 per month or $55 if you pay for the year in advance, giving you one block free. At the end of the year, there will be a finishing plan that you can use to make your quilt. Or you can create your own quilt design using the blocks.

The individual blocks and the finished quilt are below.



| | |
| --- | --- |
| Main Block | Alternate Block |
| October 2018 | |
| | |
| September 2018 | |
| | |
| August 2018 | |
| | |
| July 2018 | |
| | |
| June 2018 | |
| | |
| May 2018 | |
| | |
| April 2018 | |
| | |
| March 2018 | |
| | |
| February 2018 | |
| | |
| January 2018 | |
| | |
| December 2017 | |
| | |
| November 2017 | |
| | |